SST Publications

A Head Full of Ghosts and Disappearance at Devil's Rock Paul Tremblay
| | |
| --- | --- |
| Limited Edition - Stand Alone Disappearance at Devil's Rock | $45.00 |
| Matching Numbered Set A Head Full of Ghosts and Disappearance at Devil's Rock | $150.00 |
A Head Full of Ghosts
Artist:Daniele Serra
"Scared the living hell out of me, and I'm pretty hard to scare."
—Stephen King
WINNER OF THE BRAM STOKER AWARD FOR SUPERIOR ACHIEVEMENT IN A NOVEL

A chilling thriller that brilliantly blends psychological suspense and supernatural horror, reminiscent of Stephen King's The Shining, Shirley Jackson's The Haunting of Hill House, and William Peter Blatty's The Exorcist.

The lives of the Barretts, a normal suburban New England family, are torn apart when fourteen-year-old Marjorie begins to display signs of acute schizophrenia.

To her parents' despair, the doctors are unable to stop Marjorie's descent into madness. As their stable home devolves into a house of horrors, they reluctantly turn to a local Catholic priest for help. Father Wanderly suggests an exorcism; he believes the vulnerable teenager is the victim of demonic possession. He also contacts a production company that is eager to document the Barretts' plight. With John, Marjorie's father, out of work for more than a year and the medical bills looming, the family agrees to be filmed, and soon find themselves the unwitting stars of The Possession, a hit reality television show. When events in the Barrett household explode in tragedy, the show and the shocking incidents it captures become the stuff of urban legend.

Fifteen years later, a bestselling writer interviews Marjorie's younger sister, Merry. As she recalls those long ago events that took place when she was just eight years old, long-buried secrets and painful memories that clash with what was broadcast on television begin to surface—and a mind-bending tale of psychological horror is unleashed, raising vexing questions about memory and reality, science and religion, and the very nature of evil.

Signed Limited Hardcover Edition:
Limited to only 400 Signed and Hand-Numbered copies
Personally signed by Paul Tremblay on a specially designed full-colour illustrated signature page
Larger 6.14" x 9.21" trim size
Printed on 90gsm acid-free paper
Bound in cloth with coloured head and tail bands
Hot foil stamping on the front boards and spine
Offset printed and bound with full-colour endpapers
Sewn binding for increased durability
Dust jacket artwork and interior illustrations by Daniele Serra
Including extra bonus material not published in other editions
Note: SST will also be publishing 3 more signed limited hardcovers by Paul Tremblay - Dissaperance at Devil's Rock, The Cabin At the End of the World and Growing Things and Other Stories- and Paul has said that he will be able to match our numbers with all 4 titles!
Disappearance at Devil's Rock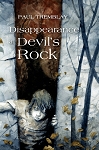 A family is shaken to its core after the mysterious disappearance of a teenage boy in this eerie tale, a blend of literary fiction, psychological suspense, and supernatural horror from the author of A Head Full of Ghosts.

"A Head Full of Ghosts scared the living hell out of me, and I'm pretty hard to scare," raved Stephen King about Paul Tremblay's previous novel. Now, Tremblay returns with another disturbing tale sure to unsettle readers.

Late one summer night, Elizabeth Sanderson receives the devastating news that every mother fears: her thirteen-year-old son, Tommy, has vanished without a trace in the woods of a local park.

The search isn't yielding any answers, and Elizabeth and her young daughter, Kate, struggle to comprehend Tommy's disappearance. Feeling helpless and alone, their sorrow is compounded by anger and frustration: the local and state police have uncovered no leads. Josh and Luis, the friends who were the last to see Tommy before he vanished, may not be telling the whole truth about that night in Borderland State Park, when they were supposedly hanging out at a landmark the local teens have renamed Devil's Rock.

Living in an all-too-real nightmare, riddled with worry, pain, and guilt, Elizabeth is wholly unprepared for the strange series of events that follow. She believes a ghostly shadow of Tommy materializes in her bedroom, while Kate and other local residents claim to see a shadow peering through their windows in the dead of night. Then, random pages torn from Tommy's journal begin to mysteriously appear—entries that reveal an introverted teenager obsessed with the phantasmagoric; the loss of his father, killed in a drunk-driving accident a decade earlier; a folktale involving the devil and the woods of Borderland; and a horrific incident that Tommy believed connects them.

As the search grows more desperate, and the implications of what happened become more haunting and sinister, no one is prepared for the shocking truth about that night and Tommy's disappearance at Devil's Rock.

Signed Limited Hardcover Edition:
Limited to only 400 signed and hand-numbered copies
Personally signed by Paul Tremblay on a specially designed full-colour illustrated signature page
Larger 6.14" x 9.21" trim size
Printed on 90gsm acid-free paper
Bound in cloth with coloured head and tail bands
Hot foil stamping on the front boards and spine
Offset printed and bound with full-colour endpapers
Sewn binding for increased durability
Dust jacket artwork and interior illustrations by Daniele Serra
Including extra bonus material not published in other editio